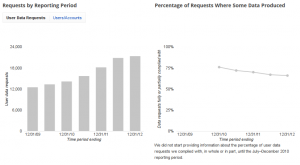 Some great analysis on the open data from Google's transparency report. This is a great eye opener on just how aggressive some countries are in tracking people's private conversations, including their own citizens. Of course many of these requests will be for legitimate reasons but it's a good read to help you understand what's going with your private information as this info is not published by the governments themselves, but rather done behind close doors. So well done Google!
The EFF writes about the analysis;
Earlier this year, Google released its semi-annual transparency report. With each release, we have gained new insight into the massive quantity of user-data requests the search giant receives from states around the world. As part of our mission to spotlight the secrecy surrounding state surveillance, EFF and SHARE Defense have released three different charts highlighting trends in increasing state demands for user data.

These charts below examine how total user data requests have increased and which countries and geographic regions are responsible for producing the greatest proportion of user-data requests. We commend Google for collecting and publishing these reports, which provide an invaluable portrait of the international thirst for private user information, and are glad that other companies are considering or moving forward with similar reports.
Here are the links to the relevant articles:
Other useful links: