Looking for a website revamp or need a new website designed?
Well then the launch of Arctic Online is very timely. From today, Arctic Online's website design services are available to one and all.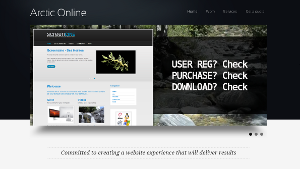 Arctic Online offers a website design service that is committed to creating a website experience that will deliver results by focusing on objective orientated website design.
I launched Arctic Online to meet the needs of my existing clients and new potential clients. To have a focused project that delivers quality website design services through a collaboration of designers and developers lead by myself as project manager.
Read about how we go about designing your new site or view some of our recent work.
If you have a requirement or know of anyone looking for a new design, get in touch via the site or here  so we can start the conversation.
Useful links